Last Updated on November 15, 2020
It's the smart age. Your phone is smart, your house is smart, your car is smart… so why should you speaker be left behind?
We compile all the best options in the smart speaker market and bring you the best smart speaker in India.
If you do not have time to go through the whole article, here are our top choices:
Best Smart Speaker in India
Editor's choice
Budget Pick
Product
Amazon Echo Dot (4th gen)
Editor's choice
Budget Pick
Product
Amazon Echo Dot (4th gen)
Smart Speaker Buying Guide
There are a lot of factors you must look for when selecting a smart speaker – sound, ease of use, utility, features, AI capability and so on. We list the important ones to help you make a purchase:
1. Voice Assistant
There are mainly three voice-assistants to choose from in today's market that have held the standard for all smart speakers – Alexa, Google Assistant and Siri.
All of them have their pros and cons but the front runner is clearly Amazon's Alexa followed by Google Assistant and then Siri. If you want a particular ecosystem, then choose the smart speaker to match your voice assistant accordingly.
2. Music Quality
We assume since you are looking into speakers, you probably want to listen to music on them. And nothing is worse than getting a speaker that you hoped you could show off in front of your friends by playing your playlist only to find the speaker to be underwhelming.
According to us, the speaker should have a balanced sound that fills the room. We do not expect it to blow us away in terms of bass or range but it should feel good listening to.
3. Smart Home Compatibility
Do you just want a speaker to interact with? Or do you need it to control your other smart home devices? The answer to that question will probably decide you in the favour of either an Alexa enabled speaker or a Google assistant enabled one.
Bluetooth Speaker vs Smart Speaker
A lot of you would have this question in your mind. What is the difference between the two? Do you need either of these and if yes, which one?
Both have advantages and disadvantages. We try to break it down for you:
A bluetooth speaker is one which is paired to your phone. That's it. It does not have a mind of its own. It will play whatever is playing on your phone. Just that the sound is coming from the speaker instead of the phone.
Best Bluetooth speaker in India.
A smart speaker on the other hand is a microphone-enabled speaker with a built-in internet-connected system. At your voice commands, a smart speaker can open apps in your phone, play a specific playlist or a podcast, read you the news, place an order on a shopping website and a host of other things.
Smart speakers usually have to be connected to a power source and are paired through the internet and not bluetooth.
Reasons to Choose a Bluetooth Speaker over a Smart Speaker
You need portability. You need to take your speaker with you to your friends houses or to parties or wherever you like without worrying about where to plug it in.
You only care about music and not much else. You are not into dictating commands to a speaker and have it perform tasks. You rather keep it simple and just listen to music while you do everything yourself. Because hey, you're smart too.
It's difficult to imagine to navigate with voice commands.
You have issues about privacy and whether companies are keeping recordings of your voice on their servers aka big data.
You want a lot of people to connect with your speaker with their phones so that you are not the only one to operate the speaker.
Reasons to Choose a Smart Speaker over a Bluetooth Speaker
You are interested in smart home devices and want to be at the cutting edge of technology. You want to turn off the lights with your sound and whatever electronics that become compatible one day.
You want to pair a lot of speakers together and have whole house music. Smart speakers sync flawlessly across rooms as long as they are within your WiFi range.
You like the idea of having an assistant answer all your dumb questions like "what is the weather like?" or "Alexa, is it going to rain today?"
List of the Best Smart Speakers in India
1. Amazon Echo (4th gen) – Overall Best Smart Speaker in India
Size: 5.7 x 5.7 x 5.2 inches
Speakers: One 3-inch woofer, two 0.8-inch tweeters
Ports: 3.5mm line in/out
Wireless: 2.4/5 GHz, Bluetooth
Smart assistants: Alexa
Compared to the best-selling 3rd generation Echo, the 4th gen has improved sound and a spherical new design. The design looks somewhat futuristic which may not be to everyone's taste.
The Echo can act as a central control system for your house with managing lights and fans to acting as an intercom. The Echo fills the room with sound better than the Google Nest Audio. It has punchier bass than any other smart speaker in this price range.
The software is ahead of all other smart speakers. The speaker responds to the wake up call "Alexa" better than the Google Nest and Apple Homepod.
It is possible to pair two Echo speakers to get a studio sound. You can do a lot of stuff with Alexa such as changing what you are watching on Fire Stick or changing a song or ordering something from Amazon.
This is the best smart speaker in India currently in this price range with the combination of good sound and excellent software.
Prime Deal
2. Google Nest Audio
Size: 6.89 x 4.89 x 3.07 inches
Speakers: 75-mm woofer, 19-mm tweeter
Ports: None
Wireless: 2.4/5 GHz, Bluetooth
Smart assistants: Google Assistant
The Google Nest is the latest offering of Google in the smart speaker space. Powered by Google's Google Assistant, it is one of the best alternatives to the Amazon Alexa ecosystem.
It looks beautiful and elegant thanks to the fabric body. The sound is decent though Amazon Echo outshines it in this area. Music streaming option is available for Spotify, Jio Saavn and YouTube Music, however it is not available for Amazon Music and Apple Music.
In terms of software, it is a toss between Google and Amazon. Both do a lot of the same things and they do them very well with Amazon inching ahead in terms of the things its software can do through voice commands.
This is a solid alternative if you don't want the Amazon Echo.
3. Apple Homepod – Best Sounding Smart Speaker in India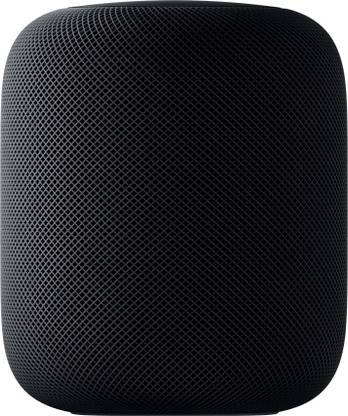 Size: 6.8 x 5.6 inches
Speakers: 7 tweeters, 1 woofer
Microphones: 6
The Apple HomePod is Apple's entry to the smart speaker market. Although it launched in 2018, Apple launched it in India quite later. It is priced around Rs. 19,000 which twice as much as what the bestselling Amazon and Google smart speakers sell for.
The sound is a lot better than most smart speakers out there. It is quite unique, full-room sound and with heavy bass.
The design is classy and looks beautiful. There are '+' and '-' points on the top to lower and raise the volume. There is an Apple logo in the middle which pauses, plays, skips tracks or summons Siri if your finger is pressed towards it.
If your main concern is sound and not the voice-assistant, then this is the best smart speaker in India for you. If you want to have the best AI software, then look to the Google and Amazon smart speakers.
Prime Deal
4. Amazon Echo Dot (4th Gen) – Best Budget Smart Speaker in India
Size: 3.9 x 3.9 x 3.5 inches
Speakers: 1.6 inch speaker
Ports: 3.5mm line in/out
Wireless: 2.4/5 GHz, Bluetooth
Smart assistants: Alexa
The Amazon Echo Dot is a budget speaker of the Echo line. It comes in three colours – dark gray, light gray and light blue. It packs a punch for a small speaker. You can pair two echo dots and get stereo sound. Though it does not have Dolby audio processing like the bigger Echo unit.
Given the price, size and the best-in-class software assistant, this is the best budget smart speaker in India. You won't a better one at this price with this combination of features.
Prime Deal
5. Amazon Echo Show 8 – Best Smart Speaker with Screen in India
Size: 7.9 x 5.4 x 3.9 inches
Weight: 36.6 oz
Speakers: Dual 2-inch neodymium drivers
Display: 8-inch 1280 x 800
Camera: 1MP
Battery Life: n/a
Audio Out: Bluetooth, 3.5mm audio
Smart displays are a great addition to the smart devices line. They are great for displaying useful bits of information or watching a video.
You still have to control the smart displays with your voice. It can display appointments, the weather, reminders and to-do lists. They can even act as a digital photo frame. But don't expect it to work like a fully-functional tablet.
The Echo Show 8 is the best of the voice-assistant with screen functionality. The sound is decent but not as good as the Echo device. Regardless, it gets the job done better than its competitor, the Google Nest Hub.
Prime Deal
6. Google Nest Mini – A Decent Budget Option
The Google Nest Mini is the best smart speaker under Rs. 3000 in India. It is small in size but loud in volume. It does all the tasks that the Nest Audio thanks to the excellent Google Assistant, however it has a few drawbacks specifically pertaining to India.
The Google Nest Mini cannot make calls through voice commands. You can only put the call on your phone on the speaker and talk through it.
The Google Nest Mini works well with the Chromecast but it will be difficult to pair it with a smart TV.
All in all, if you definitely want a smart speaker but don't have a budget beyond Rs. 3000, this is the best option available.
Prime Deal
7. Amazon Echo Studio – The Best Sounding Alexa-enabled Smart Speaker in India
Size: 8.1 x 6.9 inches
Speakers: 3 2-inch midrange speakers, 1-inch tweeter, 5.3-inch woofer
Ports: 3.5mm in/out
Wireless: 2.4/5 GHz, Bluetooth
Smart assistants: Alexa
Amazon' Echo Studio is the big boy among the Echo devices. It is built for maximum sound along with the features that come with having Alexa.
The Echo Studio actually sounds good for a smart speaker. It is great for listening to music which is what most people do with smart speakers.
The Amazon Echo Studio is packed with five drivers, a 5.25-inch downward-firing woofer, three two-inch midrange speakers. You can use the Echo Studio the same as the Echo device – making grocery lists, listening to audible books, playing music.
You can choose a variety of music streaming services including Apple Music, Spotify, Amazon Music etc.
There is not much to complain about this speaker but we still think the Apple HomePod takes the cake if sound is your number 1 criteria. If software assistant is equally important, then this is hands-down the best option for a smart speaker.
Prime Deal